Since 2015, 70%+ of our investing has focused on AI applications and infrastructure. We're proud to have led early rounds for companies like Viz.ai, Observe.ai, Socure, and Forter well before LLMs or diffusion models brought AI into the mainstream.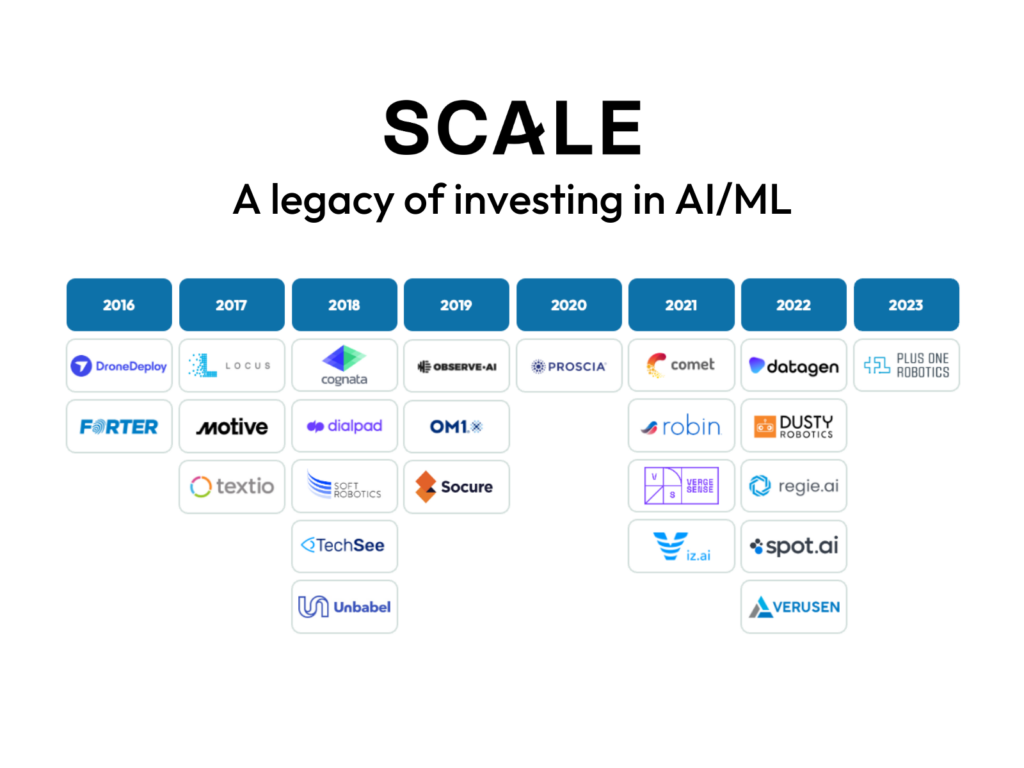 But we're just the supporting cast. It's really practitioners of applied AI who power the companies we partner with. For some time, we've been bringing these folks together in numerous ways under the banner of Cognitive Collective, and today we're thrilled to announce the Cognitive Collective job board for those building in AI.
New tools create a new kind of engineer
We're thrilled by the accelerated democratization and mainstreaming of Applied AI – a long-term trend now supercharged by new foundation and open source models.
Previously, applied AI had been the ivory tower of startup land, a somewhat secluded domain dominated by PhD-wielding ML engineers. Then, the model itself was usually the product. These applied AI companies focused on a limited set of domains where custom-built categorization AI could claim value. (More in a prior post here.)
Tasks that required years of work from such teams a decade ago (if they were at all possible) can now be accomplished in hours by a skilled AI engineer familiar with the new tools of the trade: the models, retrieval systems, prompt chaining frameworks, etc.
The folks building software with these tools are a new breed of AI engineer — one more likely to be found at an AI hackathon than in a research lab (More from SWYX on this topic here).
Why does this new age of AI require a new kind of engineering talent? Some reasons:
LLMs and diffusion models are, unlike almost any other software engineering tool, non-deterministic. This requires builders to embrace a new way of thinking. "Shaking the box" and rapid prototyping are cornerstones of the approach, as is learning to coax models with different prompting techniques.
Building products that rely on LLM reasoning (like Casetext's CoCounsel or any AI agent) requires fluency with prompt chaining and retrieval systems.
The application-layer role these products often fill requires a smooth user experience that borrows as much from front-end engineering as any other discipline.
Engineers and builders who want to seize on this new wave of AI going forward need opportunities for in-the-field learning not as part of hackathon projects, but as their full-time focus.
Of course, the rise of the "hack-first, perfect-after" AI engineer has only expanded the need for ML engineers skilled in training models themselves. It is highly specialized (or big-tech-campus) researchers who have blessed this emerging group with many of the OSS and foundation models that power the domain. And it is their peers in startup land who make a GPT-powered prototype commercially viable with cheaper, faster, proprietary models.
A new job board for all these new jobs 
All this change has led us to building the Cognitive Collective AI Job Board, which showcases opportunities from an evolving list of 100+ AI companies that we are excited about.
While technical roles account for >50% of the roles on the board, we feature opportunities across every function at these companies. Where new AI capabilities have created novel, obvious, and yet-to-be-won categories, speed to scale is paramount. This urgency to establish a category leadership position underscores the need for great go-to-market, finance, and operational talent as well.If you're considering a move to get closer to the action of AI, we hope you will find this a useful resource. And if you are hiring for roles that you think belong on this list, please reach out to me on email or on Twitter @maxwellabram