Scale has been investing in SaaS since 1999 with over 40 SaaS investments including four billion+ dollar IPOs (Omniture, RingCentral, Hubspot, and Box). The industry is now over fifteen years old having morphed out of Application Service Providers in the late 90s. Not since the move from mainframe to client-server has anything had such an impact on the software industry and it continues to rise. While we have evolved beyond SaaS infancy, we are now seeing the vast rewards in the amount of wealth these companies are creating in the public markets. Below outlines the Scale SaaS Index comprised of public SaaS companies we use to benchmark the industry.
Public Companies in the Scale SaaS Index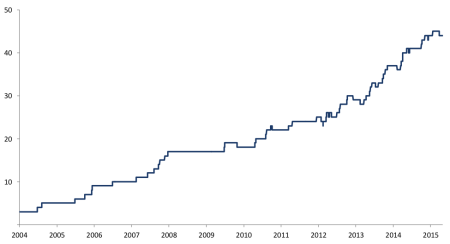 Accelerating Growth for SaaS IPOs
Salesforce went public in 2004 when the only three other public SaaS companies: Concur, LivePerson, and Ultimate Software. Today there are 44 public SaaS companies in our index and another 14 public SaaS companies have been acquired in the past decade. What is even more impressive is that a lot of this growth has come in the last three years. There was only 25 public SaaS companies our index at the beginning of 2012, highlighting how popular the public markets have been recently.
Digging through the data, other stats we uncovered:
The collective Enterprise Value (EV) of all of the companies in the index is an impressive $127B
The collective current quarter annualized revenue (CQAR) of all the companies in the index is $17B, which suggests an average revenue multiple of 7.5x
The median EV is $1B; in other words, there are over 22 SaaS companies with a EV greater than $1B (half the Scale SaaS Index)
Salesforce is both the largest in terms of EV and CQAR at $43B and $5.6B, respectively
Castlight Health is the smallest company in terms of revenue at $58M most recent quarter annualized but has a very impressive growth rate (growing at >180% year over year)
Of the 44 companies in the index, one was founded in the 80 s, 15 were founded in the 90 s, and 28 were founded in the 00 s
Scale has invested in four companies in the index each of which has at +$1B outcomes: Omniture, RingCentral, Hubspot, and Box
Who's on the List
For criteria, we focus on those that use SaaS as a business model, ignoring candidates that derive the majority of their revenue from non-recurring revenue, on premise installations, or professional services. The companies in the index are:
athenahealth(ATHN)
Bazaarvoice (BV)
Benefitfocus (BNFT)
Box (BOX)
Brightcove (BCOV)
Castlight Health (CSLT)
ChannelAdvisor (ECOM)
Constant Contact (CTCT)
Cornerstone OnDemand (CSOD)
Cvent (CVT)
Dealertrack (TRAK)
Demandware (DWRE)
Five9 (FIVN)
Fleetmatics (FLTX)
HubSpot (HUBS)
IntraLinks (IL)
Jive (JIVE)
LivePerson (LPSN)
LogMeIn (LOGM)
Marin Software (MRIN)
Marketo (MKTO)
Medidata Solutions (MDSO)
MobileIron (MOBL)
NetSuite (N)
New Relic (NEWR)
OPOWER (OPWR)
Proofpoint (PFPT)
Q2 Holdings (QTWO)
Rally Software (RALY)
RealPage (RP)
RingCentral (RNG)
salesforce.com (CRM)
SciQuest (SQI)
ServiceNow (NOW)
SPS Commerce (SPSC)
Textura (TXTR)
Ultimate Software (ULTI)
Upland Software (UPLD)
Veeva (VEEV)
Wix.com (WIX)
Workday (WDAY)
Xero (XRO)
Yodlee (YDLE)
Zendesk (ZEN)
Companies that were in the index historically and have since gotten acquired are:
Concur
Convio
DemandTec
E2open
Eloqua
ExactTarget
Kenexa
Omniture
Responsys
Rightnow
Salary.com
SuccessFactors
Taleo
Vocus
In the coming months we will be releasing a string of content on SaaS metrics based on our portfolio companies and public comparables. Bookmark this page and come back from time to time. We ll update this list as new listings occur or listed companies get acquired.