Insurance. It's an industry that has been around for hundreds of years – commercialized by the creation of Lloyd's over 300 years ago and dating back to Chinese merchants who distributed cargo across separate ships to spread individual risk. Today, insurance is associated with most items of value (home, car, art, jewelry) and with that, the market has come to be dominated by large carriers. In fact, the top 25 Property & Casualty insurers wrote 80% of all direct premiums in 2015. The process to get insurance hasn't been an easy one either. Most consumers have experienced the limited product options and cumbersome, paper-intensive process of signing up and/or filing a claim. Because of their dominance in the market, carriers have had little incentive to change. Until now.
Changing Behavior
Over the past 10 years, there has been a massive commoditization of insurance products, diminishing consumer loyalty to a specific insurance carrier brand. Because of this, carriers and agencies are now forced to compete on price and can only distinguish themselves by providing a better user experience. Carriers are navigating large volumes of new data (e.g. Internet of Things) and managing channel fragmentation (Internet, mobile, chatbots) to better understand their customers and provide a more targeted user experience. This behavior shift is creating the opportunity for new startups to use technology to evolve insurance sales, distribution, claims handling, and create a more targeted customer experience. We are excited about this shift and the opportunity it is providing for those innovative companies that are providing the "picks and shovels" to advance the insurance value-chain. We are also tracking new, creative applications of insurance, such as on-demand policies and start-ups launching new carriers from the ground-up.
Agents & Brokers Still Matter
While the theme of "automate everything" has dominated the headlines, for the insurance industry, we believe automation will be a supporting role and a significant portion of distribution will continue through brokers and agents. For example, commercial customers will continue to demand customized policies and want the comfort of speaking with a human agent. An automated application process or smoother UI doesn't meet these demands. Therefore, a major opportunity lies in supporting these insurance agents with technology. The sheer scale of the workforce is massive. There are almost half a million insurance sales agents in the US and the industry employs over two and a half million professionals. As Intuit has provided solutions for over a million accountants and Realpage offers real estate management products for almost two hundred thousand property owners, the insurance agents are ripe to move to the cloud (last generation non-native cloud software currently generates over $1B in revenue targeting these constituents).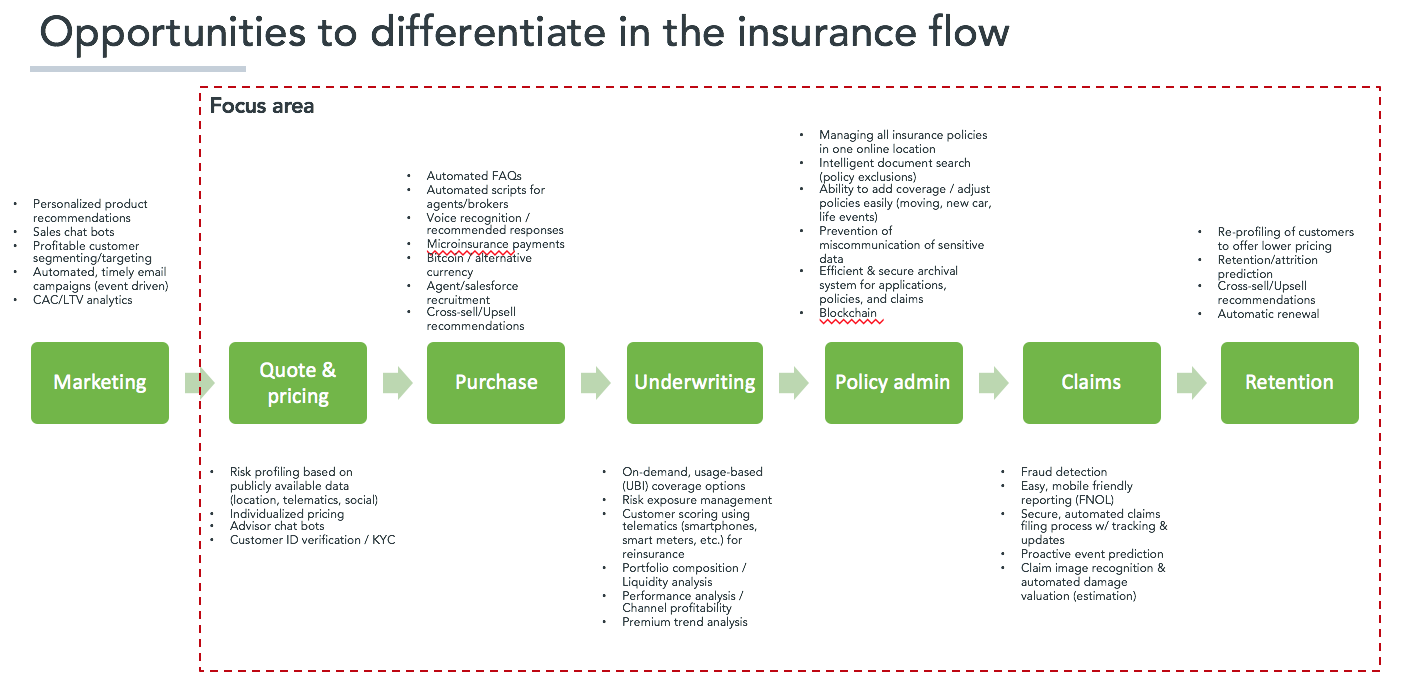 Make Carriers Smarter
Cost-efficient distribution, underwriting, fraud management, and claims management have been challenging for insurance carriers historically. The market for selling to carriers is likely several multiples larger than even the opportunity of selling to agents and brokers. Guidewire, for example, started by solving a small piece and today is valued at over $15B with a product that was originally developed sixteen years ago.
There are a many start-ups that are following in this path and creating interesting value. Matic Insurance, for example, has aligned with existing home purchase flows to offer the right home insurance policy at the optimal point in the home purchase process. Some companies, such as Cape Analytics, offer new analytics capabilities for underwriting. Cape Analytics is able to provide the data, imagery, and analytics required to accurately assess properties, price risk, and verify claims. Others, such as Snapsheet and Lemonade, are rethinking the insurance customer experience. Snapsheet leverages its technology to reduce claims adjusting costs, shorten cycle times, and quicken virtual claims processing.  Lemonade has developed a new carrier business model which takes a fixed fee out of premiums in order to provide customers with low-price policies, limit conflicts of interest in claims handling, and offer transparency to the customer experience. We think that any of these companies, as well as many more have an opportunity to create billions in value.
We are intrigued by the evolving insurance landscape and are searching for the next big business to disrupt insurance. We see opportunities for innovation in commercial, life, home, and other specialty insurance verticals and areas where insurance software can improve the productivity of agents and experience for customers. Reach out to us at ScaleVP and let's chat.
Nick Rasines contributed to the research and writing of this blog post. He is currently wrapping up his second year at Stanford Graduate School of Business.