At the beginning of 2023, we saw CEOs and founders across the board herald the beginning of the year of efficiency. Now, 11 months later, we've seen that born out in the data. Both private and public tech companies have significantly cut their burn. Private startups cut burn rates nearly in half since 2021, and many public companies have finally achieved profitability this year. However, as growth rates declined, capital efficiency and burn multiple remained flat. By reducing burn this year, companies are well positioned to take advantage of a rebound in growth in 2024 and reaccelerate efficiently.  
How much did tech startups cut burn this year?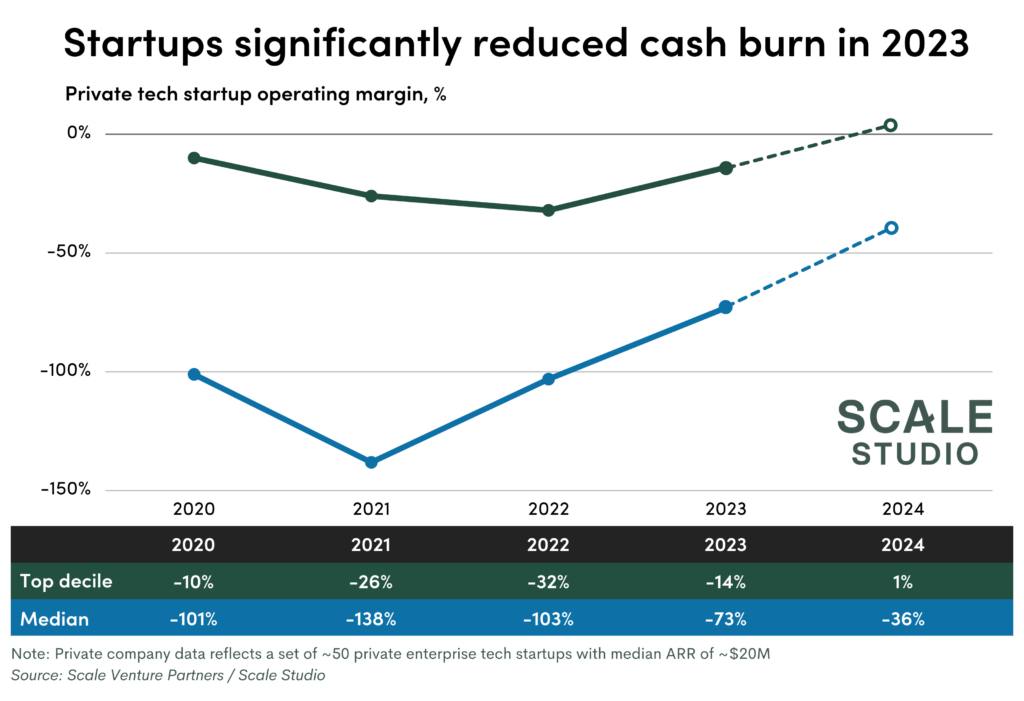 By driving operational efficiency across the board, and doing more with less, startups were able to cut their burn rate nearly in half, with operating margins improving from -138% in 2021 to -73% at the end of 2023. Based on early 2024 estimates, we see that the trend is slated to continue, with the median operating margin increasing to -36% (another huge improvement relative to the -73% we're seeing in 2023). Top-decile companies are even aiming to achieve cash flow breakeven next year, which is a huge step for a private tech startup. 
How does this compare to public tech companies' spend reductions?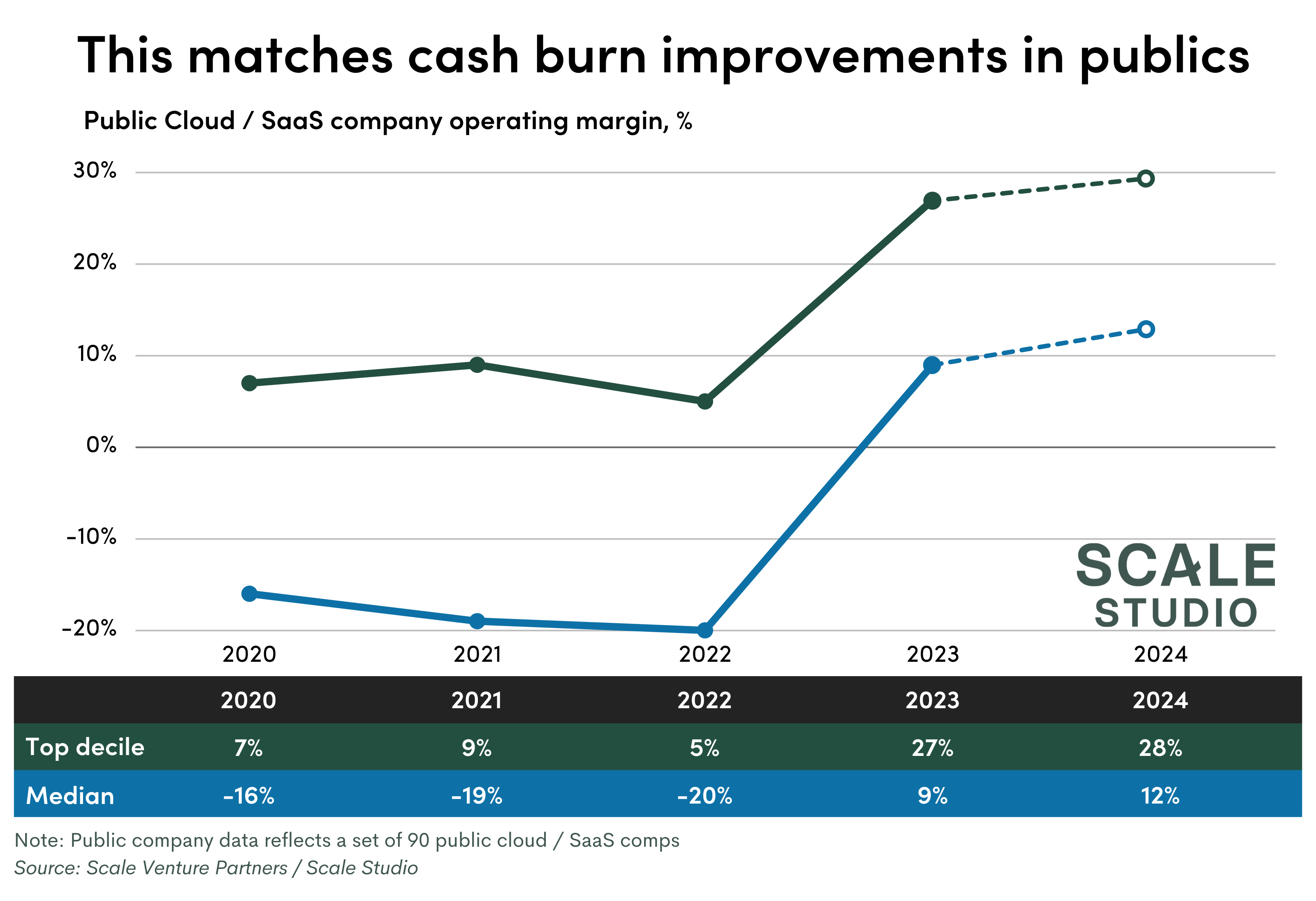 The narrative in public markets is much the same as what we saw in private startups. In public cloud companies the median EBIT margin (analogous to operating margin in private companies) improved from -19% in 2021 to 12% in 2023. It's interesting to note how suddenly public companies turned around their EBIT margins. Unlike the gradual improvement in operating margins we saw for private startups, public companies shocked themselves into profitability in late-2022 / early-2023. We'll have to see if these public companies can maintain their margins as they restart hiring for anticipated growth in 2024. 
How did the burn reduction we saw in 2023 affect capital efficiency?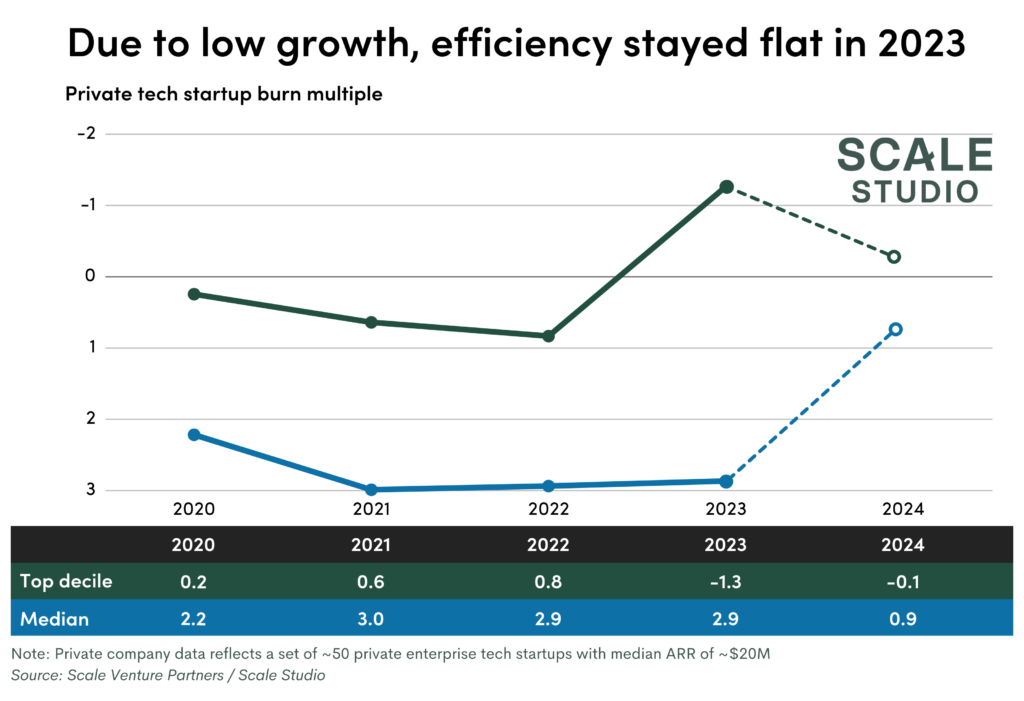 Unfortunately, because of the low-growth environment we've experienced in 2023, reductions in burn do not directly translate to capital efficiency for startups. Burn multiple, which measures the ratio between net new ARR and cash burn, shows how efficient a company is at turning dollars burned into ARR. The median tech startup burn multiple has remained fairly flat over the past couple of years, from a peak of 3.0 in 2021 to 2.9 in 2023. As we covered above, this isn't due to high spend levels. Instead, as companies reduced their burn rates, growth also fell, partly due to market conditions and partly due to lower direct investments in company growth. 
It's clear that regardless of where burn multiples end up by the end of this year, tech companies are in a much stronger position from an operating margin perspective than they have ever been before. CEOs and founders today are much more focused on capital efficiency, making sure they can get to either the next round of funding or cash flow breakeven on their current cash. As growth slowly returns in 2024, we'll hopefully see the year of operational efficiency give way to the year of capital efficiency.