Customer Success is becoming one of the most critical functions in the modern business world, and also one of the most rapidly evolving. This shift will be marked by an emergence of new technology, a change in the way users interact with software, as well as the insights and workflows that machine intelligence can help generate.
Customer Success: The Central Hub of Information Flow
No team sits closer to the customer than Customer Success (or "CS"). This is especially true in the world of SaaS, cloud, and other products that are delivered on a subscription basis. CS is one of the key determinants of a new customer's success with a product. It's a case of starting conditions that determine outcomes, informing the product or service that a business ultimately delivers.
Post sales workflows are the center of gravity for Customer Success orgs. These include, but are not limited to, customer onboarding, professional services, account management, support, customer experience and education, and in some cases, renewals. But a CS team's scope often extends much further, overlapping with other organizations, such as sales, marketing, product, or engineering. As such, CS teams often become the central hub of information flow within many modern organizations.
Demand For Customer Success Is High (And Not Just Within Tech)
Customer Success Managers (or "CSMs") are now one of the top positions for hire within the US job market. According to LinkedIn, Customer Success ranked sixth last year within the emerging jobs category with 34% annual growth in new openings. According to a recent survey by Totango, 91% of CS leaders have reported growth in their team size within the last twelve months, and this increase has been even more pronounced since the emergence of COVID-19.
CS teams are not just expanding within hyper-growth technology startups. The CS hiring wave is hitting some of the largest companies on the planet. Take for example, IBM's recent move to boost its CS department from 300 to more than 1,000 reps following its $34B acquisition of Redhat. An estimated 72% of CS roles still sit within tech, but a rising percentage of job openings are surfacing within Advertising, Financial Services, Real Estate, and other non-tech segments.
Demand for CSMs is being driven in part by the rapid growth of the subscription economy. Subscription businesses are on the rise and starting to surface outside of tech and within some segments of the market that might surprise you. Worthy of note: the three largest providers of cloud computing by revenue – Microsoft, Amazon, and Google – are now all primarily sold on a subscription basis. This ongoing shift is requiring businesses to engage with their customers on a more continuous basis. Not only are modern businesses processing more data today versus at any other point in history, but the ways in which businesses are interacting with their customers are also following a similar trajectory. Aside from the ability to engage in person, customers are now able to reach out to businesses via phone, email, text, IM, social media, as well as many other third-party channels. The byproduct of this setup is that CS teams now have more surface area to cover and a higher volume of requests to field than at any other point in time.
We'd be foolish to ignore the impact that COVID-19 has had on every segment of the economy. At no point has the push towards digital transformation been more apparent, and the customer is – by definition – at the center of that journey. In a world where all but a very limited number of professionals have been able to meet in person, companies have needed to figure out how to keep their customers engaged, better understand how their product is working, and where there is room for improvement. Much of this discovery had to be done through digital mediums. The transition from a physical to virtual (or hybrid) world has not just created a window of opportunity for subscription-based products, but also placed more burden on delivering tangible value. Products where ROI was clearly understood were kept. Those where value was more fuzzy were let go. To respond, GTM orgs were reoriented, with the spotlight shifting (and shining more brightly on) CS than it ever had before.
The Next Frontier of Customer Success Software
As the demand for CS continues to rise, leaders will be forced to confront new challenges. Growth initiatives will need to be balanced with an increasing exhaust of new communication channels and information flows. One of the ways that leaders will be able to unravel this complexity will be to adopt technology that can help make more sense of the world around them. Leaders want to know what their customers are saying, where they should focus, and what actions they should take that will have the greatest impact. Emerging CS software may have some of these answers.
We believe that the next wave of CS software will build on top of the foundation that was laid by some of the early movers in the market. Gainsight, for example, was one of the first entrants in the category and built a deep foundation that wound up informing the way that many CS leaders still structure their teams today. The Company created awareness for the CS category as a whole and revealed the need for systems that were distinct from those used by other GTM leaders and were specifically designed for the CS departments. Below are some of the key themes that we believe will start to take shape as the next wave of CS software emerges.
One of the most acute pain points that we've heard from CS leaders is that their teams use too many different systems to get their job done. We believe that one of the central themes surrounding the emerging CS tech stack will be the consolidation of disparate systems and the data that they help generate. Whether the tool is powering ticketing, telephony, surveys or an internal knowledge base, the next wave of CS tools will help consolidate many of these tools into a single pane of glass. Systems like Catalyst, Planhat, or Quala help pull in data points from other parts of the organization, aggregate customer-level information, and deliver insights that would otherwise have to be stitched together from separate systems.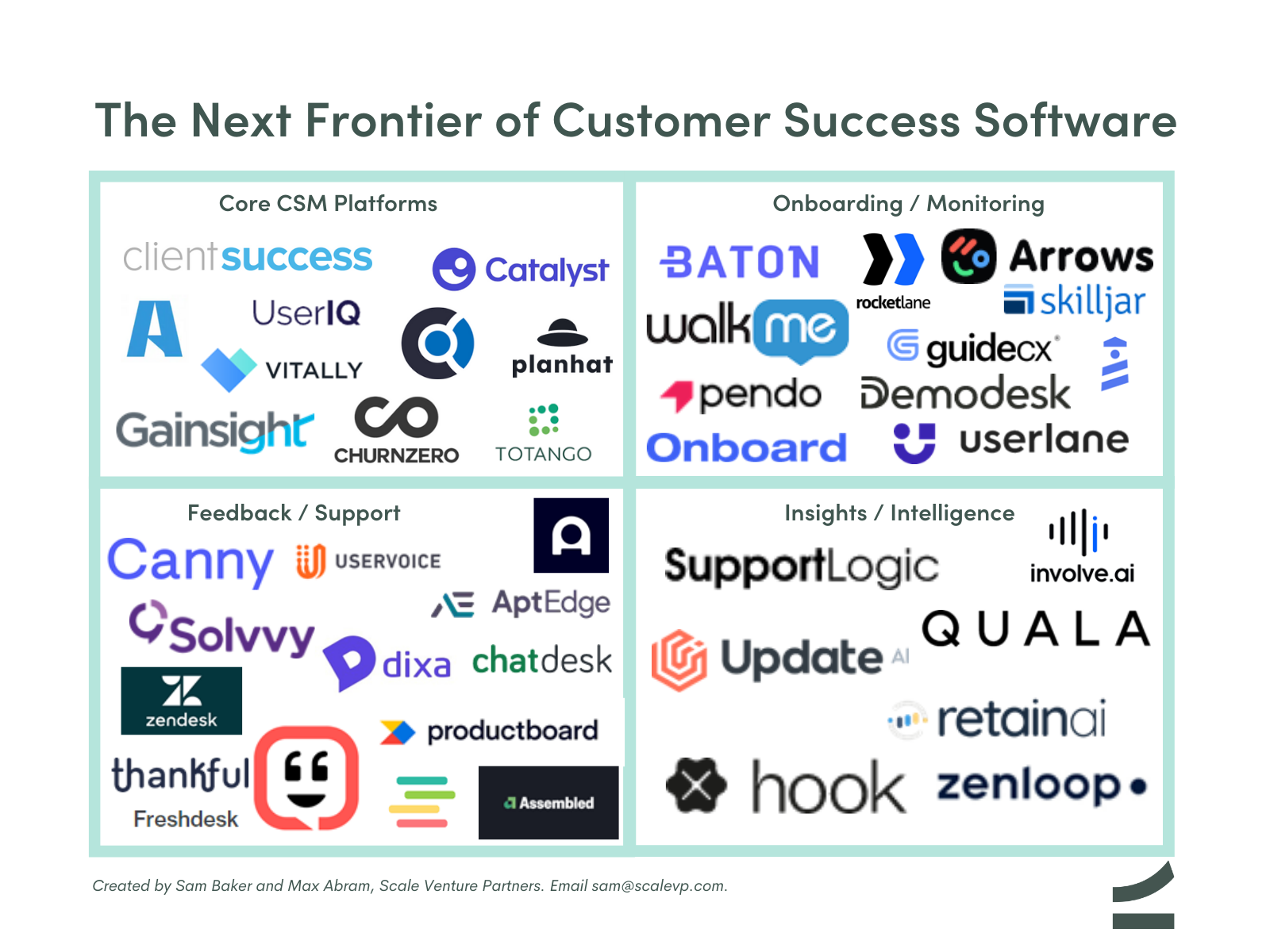 Consolidation will be a crucial driver in helping CS leaders develop a better understanding of the entire customer lifecycle. More connected systems will thread together what may otherwise be distinct segments of the customer lifecycle. Instead of just focusing on implementation, customer health, support, or renewals, CS leaders will leverage tools that deliver a more complete view of their customer's end to end journey. These tools will help leaders identify who their users are, how they became customers, how they've changed the way they've engaged with the product, and whether they are doing so in a way that's helping them drive tangible business results. The key here will be to allow CSMs to merge data from tools that gather information at different moments in the customer journey and use these insights to make more informed decisions around where they focus their efforts.
Part of assisting leaders in charting the entire customer lifecycle is the ability for systems to help provide product feedback at scale. One crucial dimension of CS that is often overlooked is the handoff of information from customer interactions to product teams. It is not uncommon for customers to relay important feedback to Customer Success teams, only to have that information get lost in the mix of other initiatives. Companies like UserVoice, Canny, and Productboard help CS and Product teams collect and consolidate customer feedback, and help incorporate leanings from customer conversions that can translate into product improvements.
The sheer volume of data within CS will create an opportunity for machine intelligence to deliver insights and optimized workflows. One of the main critiques that we've heard from leaders within the space is that it is more challenging than it should be to make sense of the heaps of data that sit in front of them. We believe that machine intelligence is going to help make meaningful improvements in this capacity – not only by helping CSMs (and their managers) prioritize where to focus their time (i.e. serving up predetermined workflows or in-product notifications), but also spotting early signals of churn risk before customers decide not to renew. Companies like Retain.ai, Involve.ai, and Hook.co are taking interesting spins on some of these dimensions, and are helping CS leaders create more proactive workflows that drive adoption and increase the potential for customer growth.
Customer Success is no longer just an enterprise-focused motion. An increasing volume of CS leaders are catering to scaled populations, where customer engagement models can be quite different versus their enterprise counterparts. It is unlikely that a single tool will be perfectly suitable for every CS organization, but we do believe it will be important for the next evolution of tools to be flexible (or customizable) enough to accommodate different (or multiple) engagement models – both in terms of how CSMs engage with their customers and how they analyze those interactions. Arrows.to, Rocketlane, and Baton are ushering in more flexibility within the customer onboarding process and Assembled is helping streamline scheduling, performance, and forecasting for both large and small support organizations that want to take a more agile approach.
And finally, no matter how effective or intelligent a system may be, none of it matters if the solution is impossible to stand up. We've heard countless stories of companies making a switch to a new platform, only to confront the harsh reality of a failed implementation months (or even years) later. The next generation of CS software will be in part judged by its ability to get up and running quickly, and to the extent possible, will rely more on software (vs. people) to fine-tune the way the system works over time. Customers should always anticipate at least some level of complexity during implementation, but we expect that the next generation of CS systems will help reduce some of this friction.
Turning The Page
Customer Success is one of the most people-centric functions in the business world and one that sits at the center of the information flow in many modern companies. While there is a huge wave of emerging technology heading towards the ecosystem, we believe that the next generation of CS teams will be optimized (rather than run) by software. The era to come will be marked by the harmony of people and systems working together, where the systems will assist CSMs and their leaders to make better sense of the world that they live in – turning massive heaps of data into better workflows and smarter decisions.
If you are an entrepreneur building a system to improve the lives of those in the world of Customer Success, we'd love to talk to you. Please don't hesitate to reach out.
Acknowledgements:
My teammates Stacey Bishop and Max Abram were instrumental in collaborating on the work that went into this post. Also, a special thanks to my better half, Katie Leighton, whose insights from a decade of CS experience were invaluable in thinking this through.