Every CFO on the planet wants to save money on real estate this year. Every VP of Real Estate knows that task is on them,  and they know that task is a political minefield inside the organization. Yes, finance wants to cut costs, but every line manager has a vision of how their organization should run and what space they need. In addition, every employee has had their eyes opened to working remotely and it is not clear how employees are going to want to return to the office, if at all. In the face of the Great Resignation, HR cannot afford to build a return to work experience that sucks. If hybrid work turns into a frustrating search for desk space, real estate heads will roll.
Add it all up and you are seeing the most uncertainty the corporate real estate world has seen, literally since the advent of offices. Smart real estate executives are realizing that the antidote to uncertainty is data. Only armed with the facts on how office space is actually being used can real estate deal with the pressure on all sides from finance, management, and rank-and-file employees.
Today, Scale is leading the $60M Series C round for VergeSense. VergeSense sells AI-powered occupancy sensors that count people in corporate offices, providing data on utilization of desks and conference rooms. Frazzled VPs of Real Estate at large corporations are flocking to VergeSense's compelling combination of hardware, software, and advanced computer vision AI in order to finally have a fact-based, quantitative understanding of what they're getting for their real estate dollars.
COVID may have catalyzed this market but you know it's real when Microsoft, Adobe, BP, Shell and other large companies have deployed VergeSense and are signing up for more.
The VergeSense Product
VergeSense technology answers the question "How are my employees using our office space?" It uses an AI-powered sensor mesh to capture data on things like desk availability, conference room utilization, and shared space utilization. This data is used by companies to make day-to-day utilization decisions as well as to identify big ticket real estate cost savings opportunities.
Before VergeSense, the status quo for office space utilization analytics was an analyst with a clipboard making point-in-time observations of how many desks are occupied. The VergeSense solution is an integrated system of software and sensors that maintains a real-time view of space via a dashboard and a suite of analytics tools.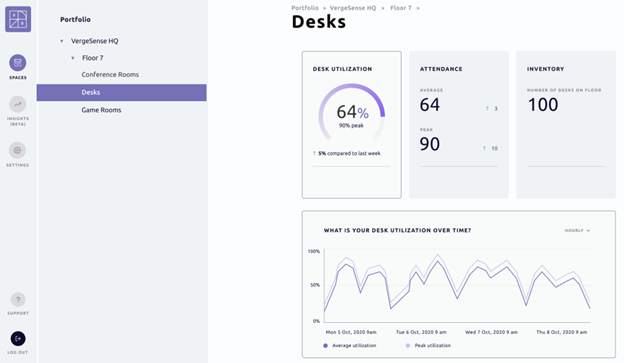 Customers use the VergeSense platform to understand things like what spaces are being used, when, by how many people on average and at its peak, and if a space is in use. VergeSense collects data via a low-resolution, optical sensor that combines a convolutional neural network (CNN) computer vision system, a built-in passive infrared sensor (PIR), and edge processing to count people and detect objects and motion to figure out whether someone is at their desk, in a conference room, etc. The neural network processing is done on the sensor itself, and VergeSense creates a mesh network so the various sensors in a building can communicate with each other. They offer the sensors in wired and wireless versions for use in any office environment.
There are other architectural approaches to this problem, but we believe VergeSense has far and away the best combination of hardware and software for now and the future. We see VergeSense as part of a trend-of-trends we call cognitive applications, enterprise technology systems that take advantage of all three of: advanced AI, real-world data collection, and interconnectivity between systems (via APIs). We've written extensively about why we see all of enterprise software moving towards cognitive applications.
Focused Experienced Founder
Scale has known VergeSense founder Dan Ryan for many years. An Electrical Engineer by training, he founded a company called ByteLight that delivered indoor location data to smartphone apps. It was acquired by Acuity Brands in 2015, and Dan stayed there for two years after the acquisition.
Dan founded VergeSense in 2017, years before COVID would upend work culture and commercial real estate utilization. Due credit given to Dan for seeing this opportunity early and developing world-class technology in advance of a massive market opening up.
We look forward to partnering with Dan and the VergeSense team as they grow in the years to come.
Thanks to my co-author, Scale Principal Jeremy Kaufmann.
Related Articles
See these articles on other "cognitive application" investments: