Back in March, we made a first-pass estimate of COVID's impact on our portfolio, along with some fairly tempered recommendations that we called the "Easy Obvious Steps". At a high level, we expected the impact of COVID to be significant, but for tech things would not be as bad as was feared. Our first-pass estimate was that the impact would be a roughly 25% hit to New ARR in Q1 and 50% in Q2, before a gradual recovery starting in Q3.
In April, we gave a Q1 flash update on our portfolio's performance. The overall results were slightly better than our March estimate, with an overall attainment of 80% of plan (versus our estimate of 75%). We are now able to provide Q2 data. The high-level result is 58% median attainment of original pre-COVID plan, slightly better than our 50% estimate.

SaaS Sales Environment During Q2
As the very real impact of the ongoing recession set in during Q2, fewer companies overachieved and we saw a general downward shift in performance relative to their original plan of record. But, similar to Q1, we saw a wide dispersion of results, largely driven by the narrowing of IT spending priorities. Enterprises are responding to the global economic shutdown by spending only on software critical to business operations. Unfortunately, not all software makes the cut.

In March, we advised our portfolio companies to re-plan the remainder of the year and focus on extending their cash runway by reducing or delaying expenses, drawing down debt, and tempering growth to match. Portfolio-wide, Q2 re-planning resulted in a median post-COVID plan that represented a 44% haircut from original plan.
As Q2 results rolled in, however, we saw significant overperformance against adjusted Q2 plans. Median attainment in the group was 115% of revised plan, with more than 60% of companies overachieving on their post-COVID plans. In retrospect, our initial guidance was slightly more conservative than the actual outcome but, given the circumstances, I think that we can say that it was close enough.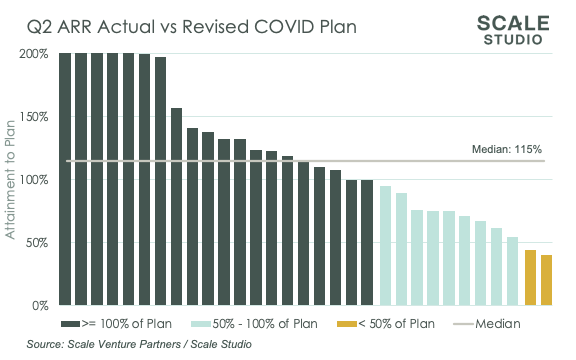 The Two Forces at Work in SaaS: Recession and Ruthless Prioritization
It has been tough but manageable for our companies. We chalk up these results to two trends in SaaS that are at odds with one another right now. The universally negative trend is the global recession, which has weighed on the performance of many industries. Bankrupt businesses don't buy a lot of software.
The other factor is COVID-driven IT buying changes, which impact the individual SaaS company either positively or negatively. This has been a tailwind for software that enables the digitization of business; companies offering these solutions have been big winners and we expect that will continue to over the long term. On the other end of the spectrum, software solutions that enterprise buyers do not consider vital are struggling now and will also likely continue to struggle for some time to come.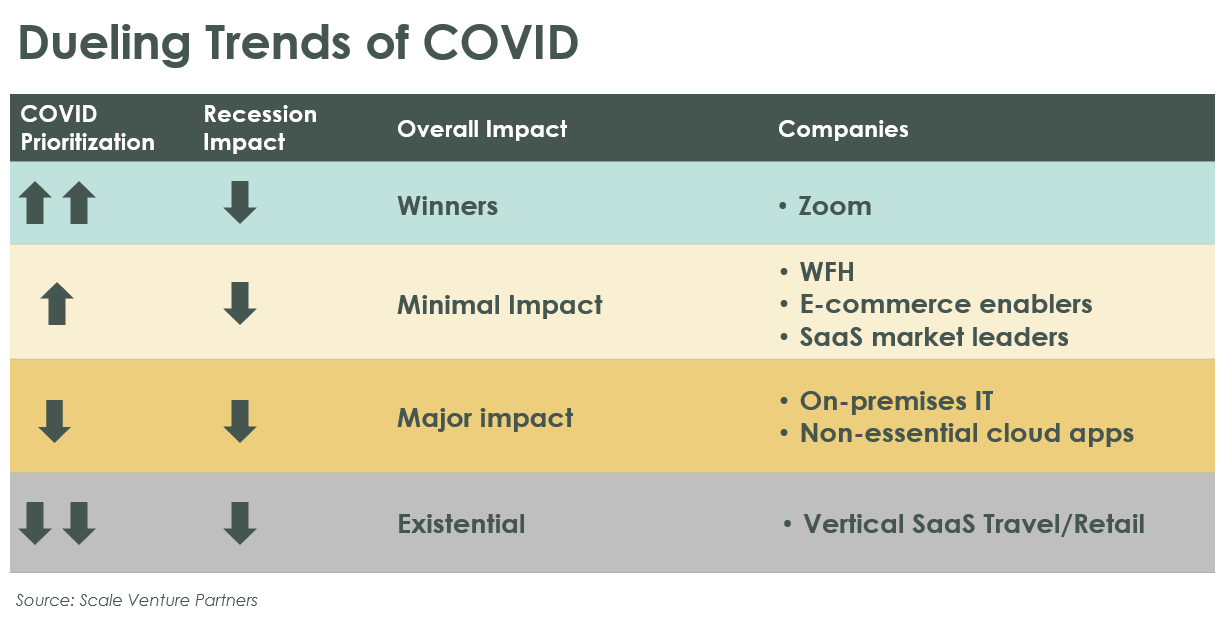 Resilience in Enterprise SaaS
The overall impact of COVID is "not nothing" with median performance Q1 and Q2 at 80% and 58% of plan respectively. In most normal years that would be a fairly disastrous outcome. In the year of COVID, when other industries are experiencing significant revenue declines (see the 80%+ declines for the travel industry), these SaaS businesses all continue to grow, albeit at a slower rate. That result – together with the absolute validation of the cloud model that work-from-home has provided – has made SaaS very much a safe harbor in the current storm.