It was a typical Tuesday and as I was scanning through my Twitter feed, I came across an interesting post. Gokul Rajaram stated that ARR growth rates weren't what they used to be and instead have been reset at much higher rates.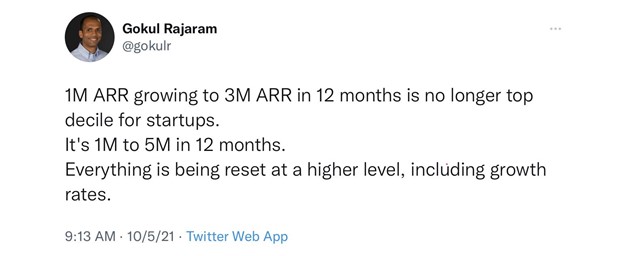 Tripling from $1M to $3M ARR in a year was no longer the "Gold Standard" and instead, top-performing companies were rocketing from $1M to $5M ARR in the same period of time. This concept of tripling at $1M ARR has been written about extensively and used as the first step in Neeraj Agrawal's post on Triple Triple Double Double Double (or T2D3). I wanted to know whether that 5x figure was correct and if so — have growth expectations changed?
So, using Scale Studio's data on thousands of quarters for hundreds of companies at $1M ARR, we went back in time and looked at what top-decile growth rates have looked like over the past several years for $1M ARR companies. (As an introduction – or refresher – on Scale Studio, it is our analytics platform that we use for analyzing and benchmarking startup performance. You can read more here.)
Two things came out as truths:
Historic Triple Confirmed: It is a fact that top-decile companies have historically, from 2013-2020, grown 3x in 12 months once they hit $1M ARR.
The Growth Rate Reset: It's also a fact that, in the past year, top-decile companies have grown 5x in 12 months once they hit $1M ARR. This is the new gold standard for growth at that scale.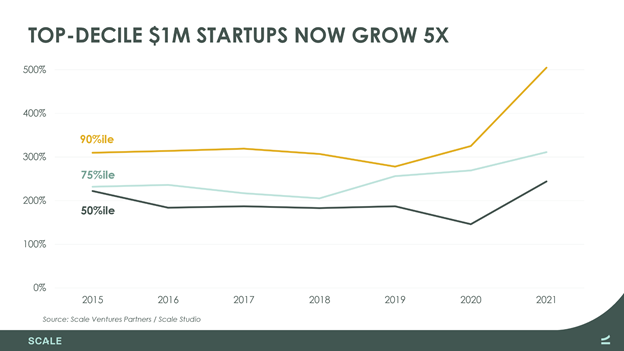 This data is useful to your annual planning for 2022. If your goal is to attain top-decile growth in 2022, the bar is officially higher — and along with it, so are investor expectations. On the flip side, the 5x club is a very exclusive one given the historically high growth required for membership. It comes with bragging rights.
Read more about the trends in $1M startups in "Seed to Series A" on our blog.